Used Hot Tubs Des Moines, IA
Welcome to Hot Spring Spas & Saunas, your premier dealer for state-of-the-art hot tubs! We're excited to provide an incredible selection of top of the line Hot Spring Spas including Limelight and Hot Spot.
Our amazing showrooms are jam packed with exceptional hot tubs in Minneapolis, Des Moines, Plymouth, Carroll, Lake Elmo and Arnold's Park.
We're pleased to welcome you and convinced you'll find everything you need at the best prices!
Browsing our comprehensive selection of pristine hot tubs is easier than ever. All of our spectacular showrooms have a huge selection of both new Hot Spring Spas and gently used hot tubs.
Take all the time you need to look around and please don't be afraid to give us a call. We're more than ready to help you any way we can find the perfect hot tub to fit your lifestyle. Ready for even more? You can always browse our products online.
The World's Most Unbelievable Hot Tub!
What is it that makes Hot Springs Spas the World's most unbelievable hot tub? That's easy. With nothing short of the highest quality and exceptional craftsmanship, they're the best performing products available. That means incredible energy efficiency, state-of-the-art technology and more for the perfect spa. We're excited about our inventory and pleased to offer a wide range of different Hot Spring Spas including Limelight Hot Tubs and Hot Spot Spas.
Finnleo Saunas
Finnleo Saunas are tough to beat when it comes to both Far-Infrared Saunas and Traditional Finish Saunas. With demand high, it's hard to keep these in stock, but we do! In fact, we offer the full spectrum of Finnleo saunas. That's the most comprehensive selection from De Moines to Carroll, Lake Elmo, Minnetonka to Arnolds Park. We're excited to help you create your dream retreat with a luxurious Finnleo Sauna!
Best Guarantee In the Industry
We're particularly proud of our guarantee- and we should be, it's the best in the industry. We're confident you'll be thrilled with your purchase- buy a new sauna or spa from any of our showroom locations, and you're covered- no questions asked.  
Call Us Today: ☎ 515-270-8702
Hot Tubs
---
Our amazing selection of hot tubs is unreal! Our showrooms are literally packed with exceptional hot tubs defined by incredible features, energy efficiency and more. 
Saunas
---
At Hot Spring Green, we're excited to offer one of the most comprehensive selections of traditional and infrared saunas anywhere. Finnleo is well known as an industry leader.
Free Hot Tub Guide
---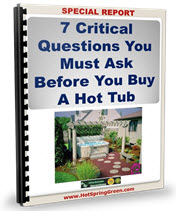 Simply Enter Your First Name and
e-Mail Address and Click The Button Below